1) Main power supply – quality choke filtered PSU, leave as is
Figure 2: PSU PCB (Original)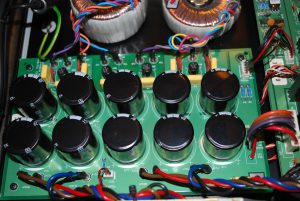 Power supply fanatics will be delighted to find large chokes on both the low voltage and high voltage analog power supplies. These chokes are bigger even than the power transformers. There are 2 main reservoir capacitors for each rail and they are wired in C-L-C arrangement with the chokes for maximum rejection of ripple, hum and other noise. The 24V rails will feed the 15V regulators for the op amps and the 90V rails will go through additional filtering before reaching the tube section. A 10V rail feeds the 5V regulator for the digital section and a 15V rail feeds the 12V regulator for the tube heaters; these rails do not have choke filters and probably do not need it. Best not to mess around with this superb design and just replace the old Jamicon electrolytics with new 105C rated components. I used Nichicon LGU at 50% bigger capacity and you should use your own favorite.